Just the Two of Us: Write Your Memoir with Me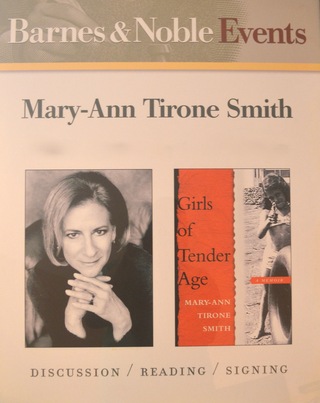 Contact me at maryanntirone@gmail.com
I have loved teaching memoir-writing to my students at the Mark Twain House in Hartford, CT, almost as much as writing my own two memoirs, GIRLS OF TENDER AGE, and First, You Get Pissed, just completed. The first memoir was published between my 8th and 9th novels in 2006 by Simon & Schuster. Happy to report that the book was a literary and commercial success. The second memoir is just starting to make the rounds of agents as I seek new representation.
My Mark Twain House students would ask me why the memoir was so popular. Is the memoir really the new novel? I don't know about that last, but I do know why we can't stop reading them: We love trying on someone else's life.
Another question: Why do so many of us want to write memoir? Some simply wish to leave behind the story of their lives and in writing that story create a grand treasure to be cherished by their descendants—a noble and rewarding experience. Then there are the rest of us. We've reached a point in our lives where we find ourselves obsessed with the desire to revisit an episode that was crushing, a compulsive need to explore that piece of memory because it keeps us up at night and won't let us go. It's as if we have a calling.
Does either motivation describe yours? Then welcome to JUST THE TWO OF US: Writing Your Memoir. Having moved from Connecticut to Florida, I've been thinking about my students often asking me if they could take a memoir-writing class one-on-one, online. The thought of gearing my lessons, criticism, and advice to one individual making his or her way through the art and craft of memoir-writing has surely tempted me. And so, here we go.
If you would like to write a memoir; or if you have a memoir-in-progress; or if you've completed a memoir and feel the need to have it critiqued before sending it out into the world that is publishing, I hope you will consider working with me.
This individualized online class will offer you a blueprint for examining directly the appeal of memoir and a path to writing your own. Along that path, we will speak of many things: how memoir differs from autobiography; what memoirists must borrow from fiction writing; how to create tension and suspense; the requirements necessary to produce authentic dialogue; the re-creation of a time and a place; and what makes for the ultimately irrepressible narrative voice that will seduce readers so that they sit rapt and content in our back pockets willing to follow us anywhere.
While we write, we will come to understand what the remembered life is and how to turn it into an irresistible, provocative, and coherent story, for that is what defines a good memoir.
My class will consist of ten online meetings arranged according to a pace you choose. Each meeting will concentrate on one of the elements I've described above. When you have completed what I ask of you for Meeting #1, you will move on to Meeting #2, all the way through to Meeting #10.
As we proceed, I will be available to answer questions via e-mail, and give you two opportunities for a fifteen-minute phone conversation, or one long one up to 45 minutes for those of you with a completed manuscript. If you choose the former, we'll have our first phone-chat after five assignments, and the second once you've completed the course.
When you send me each of your ten assignments, you will include a $100 fee, and then I will respond to your work via e-mail. Upon your receipt and perusal of my response, you may e-mail me with questions.
If you have finished a memoir and would like a critique, my fee is $500 for every 250 pages, Times New Roman font, 14 pt., one-inch margins all around, numbered and double-spaced. Once you have read the critique, you may e-mail me your questions, and when ready, we'll have that 45-minute phone conversation. Then if you choose to revise, you may send me your revision, same fee as above.
Interested? Know that with pen or keyboard, and wearing the analytical hat of a clean-thinking mathematician, you will write and re-write what you remember until you find the key to unlock what it is you are trying to understand, to grasp, to make sense of. You will not depend on the sweetness of "once upon a time," but instead learn to create the sense that what happened to you then is happening to you now, without the security of probable escape, and no promise that everything will turn out just dandy.
Game? I know I am! I look forward to hearing from you at maryanntirone@gmail.com with your questions and/or the date you would like to start.
Good luck.
Write! (And have a look at my recommended reading list below, almost all the authors unpublished writers when their memoirs came out.)
Mary-Ann Tirone Smith
THE MEMOIR: A READING LIST
Conway, Jill Ker. THE ROAD FROM COORAIN. A girl's life lived in isolation on a sheep farm in Australia where she is constrained by what is expected of her—ambition is certainly unacceptable. Conway went on to become the president of Smith College.
Didion, Joan. THE YEAR OF MAGICAL THINKING. Didion writes of her husband dying as he sat across the dinner table from her, and shows her life, practically minute by minute, through his death and all to follow.
Dinesen, Isak. OUT OF AFRICA. The author is one of several well-known women who decided to leave home for Africa. She never wrote another book.
Eire, Carlos. WAITING FOR SNOW IN HAVANA. The writer was part of a moment in history, among the children of wealthy parents air-lifted out of Cuba when Castro's revolution ended the Batista regime. It's the child's story along with his view of the political situation. The author is a professor at Yale and has written many books.
Fuller, Alexandra. DON'T LET'S GO TO THE DOGS TONIGHT. A daughter's story of her pioneer family in Rhodesia, attempting to live off the land while entirely isolated. The author wrote two more memoirs and several novels which she could not get published.
ULYSSES S. GRANT. At the end of his life, the former president moved to a cabin in the middle of an isolated wood and wrote the story of his life.
Kilgour, Mary Cameron. ME MAY MARY. A catharsis. The author did not write the memoir to entertain others. It is a provocative and amazing story of a child with no advocates who comes out of abject poverty and hardship, and creates a productive, successful life.
Knapp, Caroline. DRINKING: A LOVE STORY. One of many memoirs that focuses on an illness or adversity.
McCourt, Frank. ANGELA'S ASHES. An ordinary man whose story is anything but. The author went on to write two more memoirs. (Like Alexandra Fuller, McCourt wrote several novels, none deemed publishable.)
Montgomery, Lee. THE THINGS BETWEEN US. The author stepped out of her life to detail her return to her childhood home to help care for her dying father, and her return to dysfunction—her mother still has her morning cereal with gin instead of milk.
Rice, Rebecca. A TIME TO MOURN. A precursor of Ms. Didion's memoir; a young woman facing what life is and what it will become now that her much-older husband is dying.
Sacks, Oliver. THE MAN WHO MISTOOK HIS WIFE FOR A HAT. The first of many memoirs written by the erudite and sympathetic psychiatrist, many of whose books focused on his patients.
Vaughn, Robert. A FORTUNATE LIFE. A "celebrity memoir," a chronology of the events of the actor's life.
Volk, Patricia. STUFFED. One of many memoirs written by humorists, including Jimmy Breslin, Steve Almond, and David Sedaris among others.
Wolff, Tobias. THIS BOY'S LIFE. A catharsis, one where the author escapes into his imagination to try to survive cruel treatment. A brilliant narrative voice. He went on to publish many literary and commercially successful books.
And of course: GIRLS OF TENDER AGE.